March 24th 11pm – LATE SET at The Monkey Wrench hosted by Brigid Kaelin with Xylos and Miss Tess
When things close down at The Rudyard Kipling we'll head over to The Monkey Wrench where the Queen of The Highlands herself Brigid Kaelin will deliver the Kentucky hospitality to Brooklyn's Xylos and a special appearance by Miss Tess who will be making the rounds for their one night in the city.
Cover – $5
About the artists:
Brigid Kaelin
Louisville songstress Brigid Kaelin is part country, part vaudeville, and all Americana. Whether on piano, accordion, guitar, or the musical saw, Brigid has charmed audiences all over the world with her music and entertaining live show. She's been called "the Bette Midler of Alt-country" and was voted "Best Singer/Songwriter" in Louisville for the past three years. Brigid also loves playing in other bands and has performed with Peter Searcy, Seven Mary Three, Love Jones, Days of the New, Elvis Costello & the Imposters, as well as Guy's All-Star Shoe Band and Garrison Keillor on NPR's A Prairie Home Companion.
Brigid's blog, The Red Accordion Diaries, has become well-known and oft-published. She writes about music and touring, of course, but her comedic rants have become fan favorites.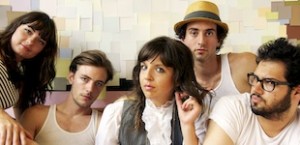 Xylos
Strong electro/guitar-pop drives the sharp songs of this Brooklyn quintet whose debut album comes out April 5 on 1000x Records. Already part of the Brooklyn beat, Xylos are bringing the glitter and haze of the loft party to the stages of these united states.
www.xylosmusic.com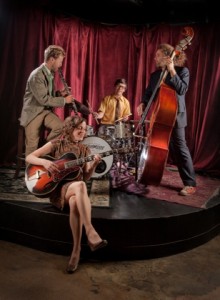 Miss Tess and The Bon Ton Parade
"Outstanding Folk Artist of the Year"–Boston Music Awards
"The area's next musical sensation" –Boston Magazine
Miss Tess is a New York City based songwriter and performing musician, who along with The Bon Ton Parade (Raphael McGregor on lap steel, Danny Weller on upright bass, and Matt Meyer on drums) encompasses styles of vintage jazz, blues, country, and folk. "To classify this singer-songwriter as merely a jazz singer would miss the point – she's a musical chameleon, recalling at various moments Tom Waits' barfly humor, the cabaret-rock of Beirut, or even the wink-wink wit of early Bette Midler." – Holly Hughes, Blog Critics.
In her Baltimore youth, Miss Tess was lullabied by the sounds of her father's Big Band rehearsing in a basement below her bedroom. Her mother played upright bass, and large jam parties were a familiar household sound. Tess studied classical piano as a child, and in her teens, began banging out her first few chords on an acoustic guitar. Tess first joined the storied roots scene in Cambridge, Massachusetts in 2005, when she formed The Bon Ton Parade, a dynamic, solo-swapping combo, comprised of sax & clarinet, upright bass, brushes on drums, and backing harmonies. The Bon Tons began playing at rootsy hotspots, and in May of 2007, Tess released her first album with her Boston band, entitled Modern Vintage, recorded at Hi-N-Dry, the studio of Boston legend Mark Sandman, and was produced by Morphine drummer Billy Conway.
Her 2010 release is Darling, oh Darling, and eclectic mix of original tunes dabbling in styles of western swing, rockabilly, jazz, and blues. Brian Tucker of Bootleg Magazine says "Miss Tess has grace, and the chops, to deliver an album of new material brimming with '30's era jazz and swing or bouncing energy of the 1950's. Tess sounds transported from decades past without ending up a caricature. She's sultry, sassy, fun, and all heart. While steeped in the era that spawned Fats Waller or Bessie Smith she's completely her own voice, capable of stepping outside traditional sounds altogether."
www.misstessmusic.com