March 24th 7pm – Opening for "Shelter" (ML Pop-Up Gallery) at The Rudyard Kipling w/Miss Tess, The Slow Charleston, Kri and Hettie
7:00 Teresa Koester-Mills pulls the switch and "Shelter", Spring Motherlodge's Pop Up Art Gallery will open for the public in the back of The Rudyard Kipling. Chef Timothy Tucker will offer a Motherlodge dinner special. Join the participating artists for the first peek at this unique environment and then settle in for an early show w/Miss Tess, The Slow Charleston, Kri and Hettie, Gypsy DeVille and Theo Edmonds $8
Admission to "Shelter" Gallery Opening – FREE
About the music artists: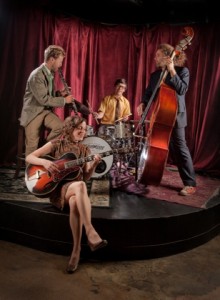 Miss Tess and The Bon Ton Parade
"Outstanding Folk Artist of the Year"–Boston Music Awards
"The area's next musical sensation" –Boston Magazine
Miss Tess is a New York City based songwriter and performing musician, who along with The Bon Ton Parade (Raphael McGregor on lap steel, Danny Weller on upright bass, and Matt Meyer on drums) encompasses styles of vintage jazz, blues, country, and folk. "To classify this singer-songwriter as merely a jazz singer would miss the point – she's a musical chameleon, recalling at various moments Tom Waits' barfly humor, the cabaret-rock of Beirut, or even the wink-wink wit of early Bette Midler." – Holly Hughes, Blog Critics.
In her Baltimore youth, Miss Tess was lullabied by the sounds of her father's Big Band rehearsing in a basement below her bedroom. Her mother played upright bass, and large jam parties were a familiar household sound. Tess studied classical piano as a child, and in her teens, began banging out her first few chords on an acoustic guitar. Tess first joined the storied roots scene in Cambridge, Massachusetts in 2005, when she formed The Bon Ton Parade, a dynamic, solo-swapping combo, comprised of sax & clarinet, upright bass, brushes on drums, and backing harmonies. The Bon Tons began playing at rootsy hotspots, and in May of 2007, Tess released her first album with her Boston band, entitled Modern Vintage, recorded at Hi-N-Dry, the studio of Boston legend Mark Sandman, and was produced by Morphine drummer Billy Conway.
Her 2010 release is Darling, oh Darling, and eclectic mix of original tunes dabbling in styles of western swing, rockabilly, jazz, and blues. Brian Tucker of Bootleg Magazine says "Miss Tess has grace, and the chops, to deliver an album of new material brimming with '30's era jazz and swing or bouncing energy of the 1950's. Tess sounds transported from decades past without ending up a caricature. She's sultry, sassy, fun, and all heart. While steeped in the era that spawned Fats Waller or Bessie Smith she's completely her own voice, capable of stepping outside traditional sounds altogether."
www.misstessmusic.com
The Slow Charleston
Louisville has been a hotbed for the synthesis of bluegrass and everything else. Members of The Slow Charleston come from genre bending pickers clubs Fire The Saddle and Arnett Hollow, continuing to explore new ways to grow the 'grass.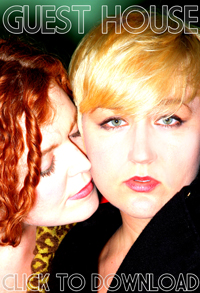 Kri and Hettie (The Sirens)
Energetic Acousti-Soul, Goddess-Lovin' Folk Rock – no matter how you try to describe Kri Martin and Hettie Mayes' live show, you will still be looking for a few more words when all is said and done. The duo are nationwide, on your side, and right on time. Formerly known as The Sirens, the ladies penchant for all things stripped down and true led them to abandon their former band name, relying instead on the names everyone already knows them by. You gotta love that.
www.sirensinthewoods.com