Irina's Name Day Party
The Mother Lodge Festival and Conni's Avant Garde Restaurant present
Irina's Name Day Party
a play with dinner and cake
Thurs. 3/28 7pm (6:30 doors) Fri. 3/29 7pm (6:30 doors) Sat. 3/30 1pm MATINEE (12:30 doors)
at The Rudyard Kipling
Tickets are $25 Purchase them here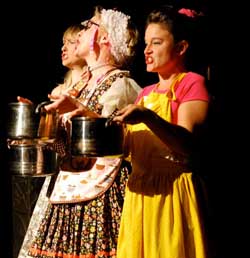 Conni's Avant Garde Restaurant (a Time Out New York favorite and Village Voice Choice) invokes the world of a (fictional) restaurant run by a (fictional) ensemble devoted to the teachings of the legendary (and again, fictional) Miss Conni Convergence. In Irina's Name Day Party the actresses of Miss Conni's company are presented with a copy of Anton Chekhov's Three Sisters and the directive to "find the play!" The party in the opening scene comes to life as audience members become invited guests and are treated to a meal of burgoo, beer, and birthday cake. Meanwhile, the actresses grapple with Chekhov's great female roles. With the soul-wrenching assistance of the Violent Femmes, Frank Sinatra, and Bonnie Tyler, among others, they explode the sibling-like entanglements of their own ensemble.
Tickets are $25 and include dinner provided by the Rudyard Kipling and cake by Amanda Danke
Irina's Name Day Party
Created by the ensemble under the direction of Cynthia Croot
With Lucille Duncan, Diana Egizi, Connie Hall, Kelly Hayes, and Rachel Murdy
Assistant Director: Peter Richards
Stage Manager: Diana Egizi
Lighting Designer: Jeannette Oi-Suk Yew
THE RUD'S RUSSIAN MENU
Entree
choice of
Burgoo (that's Kentucky for Borscht)
or
Borscht (that's for the vegetarians)
Sides
Corn bread, black bread and snappy cheese
Beverages
The bar will be available during the performance.
Birthday Cake
by Amanda Danke